Enjoy a relaxing stay in one of our hotel rooms
After meetings in our convention center, settle in for a good night's rest on a plush bed. Our 250 contemporary rooms feature amenities like free Wi-Fi, complimentary bottled water, and a coffeemaker to make your stay more comfortable. Do your last-minute preparations for work on our in-room work desk and comfy chair. Here for business or a longer visit? Upgrade to a suite to take advantage of extra space and additional perks.
Pet-friendly policy
Our hotel offers select pet-friendly rooms for guests with dogs. A one-time, non-refundable USD $50 deposit is required. Contact the hotel directly for availability.
Accessibility features
We understand that accessibility is important to guests. Please contact the hotel to confirm if an accessible room will meet your needs or if you have other questions.
This hotel has accessible rooms that may include the following accessible features:
Amenities within accessible range to reach
Closed caption decoder
Controls operable without grasping or twisting
Lever hardware
Roll-in shower
Tex telephone (TTY/TDD/TT)
Grab bars alongside toilet
Grab bars by tub
Transfer seat to tub

Audio and visual emergency warning devices
Wider guest room and bathroom doorways
Braille exits
Wheelchair-accessible lobby
Wheelchair-accessible public entrance
Wheelchair-accessible public restrooms
Wheelchair rental available
Smoke-free policy
All guest rooms and public spaces at Penn Harris Hotel are 100% non-smoking. A USD $250 cleaning fee will be charged to any guest who violates the smoking policy.
2 Double Beds
Size: 318 sq ft | Max guests: 4 adults
After a day touring Pennsylvania's capital, return to your comfortable room with amenities like room service and a flat-screen TV with cable channels. Refresh yourself with complimentary bottled water or a cup of coffee brewed using the in-room machine, and then post pictures of your adventures with free Wi-Fi. If you need more sleeping space, you can request a crib to accommodate everyone in your group. Accessible rooms are available with a roll-in shower.
King Bed
Size: 318 sq ft | Max guests: 4 adults
Here on a getaway with a loved one? Relax during your trip to Harrisburg with complimentary bottled water and free Wi-Fi in this standard room. After a carriage ride through City Island Park, enjoy a quiet evening with room service and a movie on a flat-screen TV. You can wake up at your leisure each morning with a warm cup of coffee in the king bed. Cribs and accessible rooms are available.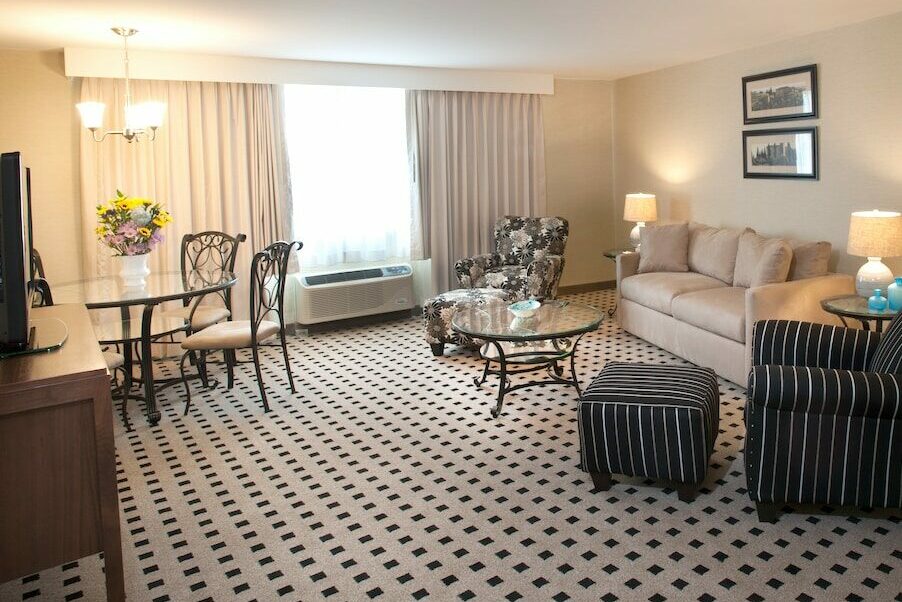 Standard Suite
Size: 1,269 sq ft | Max guests: 4 adults, 1 child
Visiting the Harrisburg area for an extended period? Have a memorable stay in our elegant Presidential Suite with two double beds in a private bedroom. Each morning, sip a fresh cup of coffee as you sit in the dining area and plan the day's itinerary using free Wi-Fi. An in-room fridge makes it easy to chill drinks to take with you to Fort Hunter Mansion and Park. When you're ready to relax, you can lounge in the separate living room while you choose a movie to watch. All standard amenities apply, and adjoining rooms are available.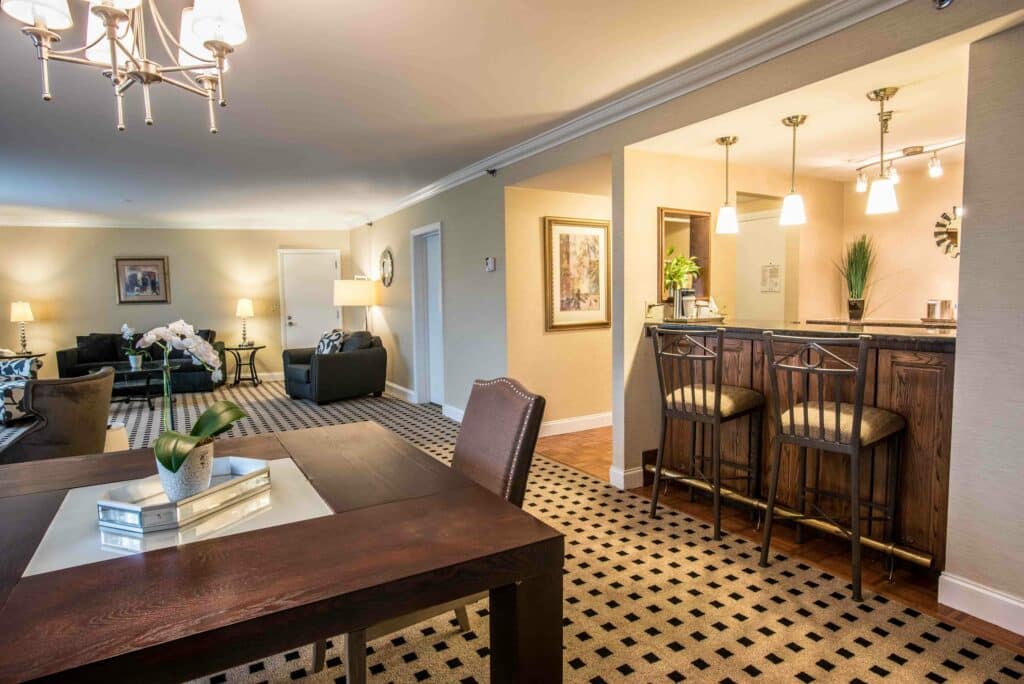 Presidential Suite
Size: 1,269 sq ft | Max guests: 3 adults, 1 child
Make the most of your stay in Harrisburg when you book one of our spacious Presidential Suites with a king bed. Planning to entertain? Chill appetizers in the fridge and host meals for eight in the dining room area. Afterward, you can mix drinks at the wet bar for your group and socialize by the fireplace in the living room. The private bedroom offers a comfortable place to recharge with a full night's rest. These suites include all standard amenities and adjoining rooms are available.